Wajax Is Your Exclusive KTEG Dealer & Service Partner Throughout Canada
Forged from a strategic alliance between Hitachi Construction Machinery Co., Ltd and Kiesel Technology GmbH, Kenki Technology (KTEG) represents a bold new chapter in tech innovation for excavators.
When you're working in construction, especially demolition, or civil infrastructure projects, you want the excavators you use to be high-performing and resilient. Hitachi's excavators are already known throughout the industry for offering exceptional strength, cost-efficiency and maneuverability when it's needed the most. Hitachi excavators, fused with KTEG's innovative technology and tool carrier options, can empower you to take your operations to a whole new level.
KTEG's range of Demolition Excavators, and Civil Construction Excavators can allow you to enjoy their unmatched quick coupling attachment capabilities, and more. Whether used in scrap metal, recycling, route construction, port or timber applications, you can depend on KTEG excavators to deliver supreme power, control, and flexibility.
At Wajax, we're Canada's exclusive authorized dealer of KTEG's Demolition Excavators, and Civil Construction Excavators. We can supply, maintain and repair your excavators and more, providing expert assistance at every step of the process.
The Wajax team is also available around the clock, ready to give you the support and assistance you require. Our staff is ready and able to offer guidance and parts delivery to ensure you enjoy maximum operational uptime.
Wajax + KTEG (Hitachi) Offerings
---
Products
Demolition Excavators
KTEG (Hitachi) Demolition Excavators are designed to handle the heaviest loads, with their multi-carrier & tool carrier systems representing a game-changer in the industry.
Civil Construction Excavators
Offering 50% greater lifting power to handle the most demanding applications without increasing weight, KTEG (Hitachi) Construction Excavators deliver additional lifting capacity powered by Tritec technology.
KTEG MultiCarrier and ToolCarrier Systems a True Game-Changer
---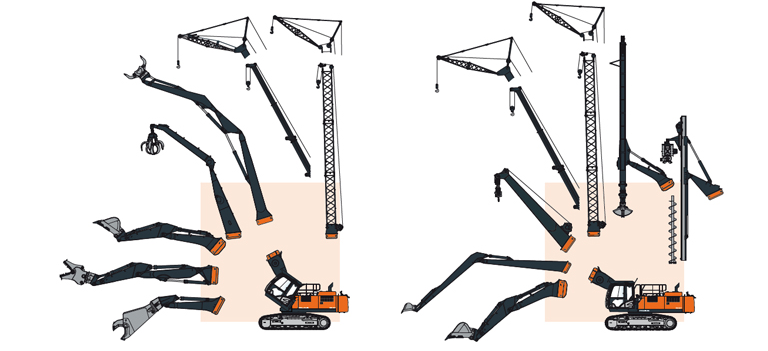 KTEG (Hitachi) Demolition Excavator models KMC400P & KMC600P offer unparalleled versatility with their multi-carrier system, enabling seamless tool changes without the operator leaving the cab.
---
Parts
Thanks to our national parts network, get the equipment you need when you need it.
Our centralized parts delivery system means you have a consistent supply!
Enjoy convenience as parts can be delivered directly to you or picked up from one of 100+ branches across Canada.
Avoid inefficient multiple shipments with our consolidated orders.
Customs holdups are avoided as we're located right here in Canada!
Reliable Service From Wajax
Avoid downtime with Wajax product support's superior service and solid solutions.
Rest assured we have your back with service trucks ready across Canada.
Our team of experts are factory trained, so you're in great hands.
Our preventative maintenance solutions are designed to keep you ahead of mechanical issues and reduce downtime.
Want to learn more about KTEG (Hitachi) excavators and how they can make your operation more productive, and efficient? Call a Wajax expert today. We have the expertise to help you find the ideal construction equipment and provide world-class maintenance support.
Request A Quote