A Diverse Team is a Strong Team
Our workforce is only as strong as it is diverse. No matter your demographic, you are welcome here.
It is our priority to ensure that our team is as diverse as the society it has been proudly serving for over 160 years. Our goal is to consistently attract, retain and develop a diverse and skilled workforce that best reflects Canadian society, welcoming and celebrating our employees' diverse backgrounds, experiences and perspectives.
From recruitment and training to renumeration and promotion, we prioritize equal opportunity to our growing team through every channel. All employees – no matter their position, age, race, ethnicity, or otherwise – contribute fully to the success of Wajax.
When employees feel safe, valued and equal, they do their best work.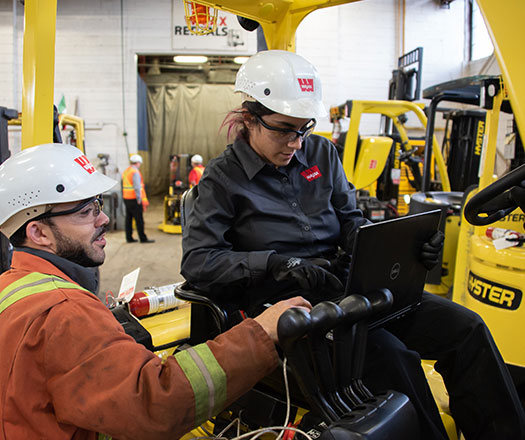 ---
Indspire Partnership
We believe investing in Indigenous education is an investment in Canada's future. When one life is changed, a whole community is changed.
That's why we've partnered with Indspire, a national Indigenous charity that educates, connects and invests in Indigenous peoples, so they can achieve their highest potential. Our partnership with Indspire is our commitment to investing in the long term benefit of our Indigenous communities, creating positive impact on Indigenous individuals, families, and Canada as a whole.
Women Building Futures Partnership
Wajax has partnered with Women Building Futures (WBF) to access their expertise, research in diversity, equity and inclusion with a focus on gender equality and advancing economic security.
---
"I have been with Wajax for 4 months and as of now my experience with the company has been great. I see that Wajax stands by its mission: A diverse team is a strong team. It's always about building relationships in diverse group environment to help encourage individuals and provide them the safe space to ask questions and have a voice. Since I joined the company, I have been given the opportunities to speak and put forth my views and strong opinions regarding our processes and ability to take initiatives to improve them. In addition, I have been given the platform to interact with the entire HR team and share my stories and experiences in an effort to building team relationships and engagements. When I am offered these opportunities, I never feel limited by my gender or ethnicity. To me, that is what makes Wajax special in terms of Diversity and Inclusion."
Swapna P.
---
Come as you are
We are committed to providing meaningful opportunities
to employees of all backgrounds.