State-Of-The-Art Technologies Taking Your Operation To The Next Level
Boost productivity, improve processes, drive efficiency & growth using the latest technologies with Wajax TechIQ.
TechIQ uses the most innovative and advanced digitalization tools to monitor, analyze and gain deep insight into your entire operation. Backed by in-house expert engineers and technicians, this platform executes proactive responses to your operational and maintenance issues – stopping failures before they arise.
Leverage the power of the latest technologies to increase equipment reliability, productivity and savings, and maximize equipment uptime. Our objective is to empower you to better understand, evaluate and have control over their operation, taking their end-to-end performance to the next level.
START YOUR INDUSTRY 4.0 JOURNEY
Wajax TechIQ is here to guide our customers as they embark on their Industry 4.0 journey, ensuring they are well positioned for the future.
Core Offerings
Offering both onsite and remote capabilities, each core offering utilizes the latest cloud-based technologies to provide greater understanding & insight into even the finest details of your equipment.
TECHIQ CONDITION MONITORING SENSORS & IoT PLATFORM
Wajax TechIQ Condition Monitoring Sensor paired with the TechIQ IoT Platform uses artificial intelligence and machine learning to perform continuous asset health monitoring, helping you understand the overall health of your equipment.
Each sensor measures:
Vibration 3D
Acoustic Emission / Ultrasonic
Magnetic Flux
Humidity
True RPM
Temperature
Track and continuously monitor your assets in a streamlined and efficient manner, with high-quality, sophisticated sensors for every application.
Automate decision making with TechIQ's 6-in-1 wireless sensor. With a replaceable battery life of 3-8 years, experience simple plug & play installation without the worry of any extra IT infrastructure.
Order TechIQ Sensors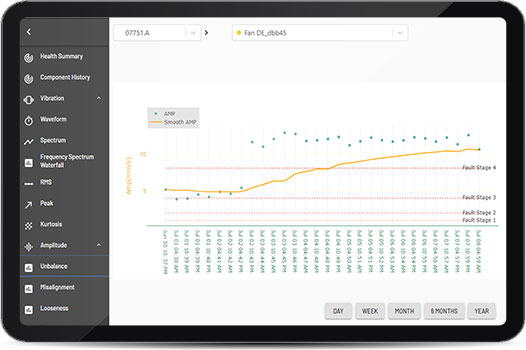 ---
ASSET MANAGEMENT
Give the right equipment the right attention, at the right time, using our tailored and holistic risk assessment and maintenance strategies.
OUR EXPERTS:
Our experts help prioritize maintenance needs based on the impact and probability of failure for every asset. They identify criticality of parts, allowing you to optimize your spares inventory, develop a well-structured CMMS system and streamline day-to-day maintenance.
OFFERINGS:
Equipment Master Data
Maintenance Strategies
Risk Assessments
Job Plans & Work Instructions
Spares Inventory Management
CMMS Implementation
Planning & Scheduling
Defect Elimination
Lubrication Management
Asset Management Trainings
Through our unique Voice of Customer program, our experts will assess your operation over a 3-day Comprehensive Field Assessment. We provide a focused improvement roadmap that identifies your operational gaps, pain points, and process bottlenecks, and provides solutions to optimize the entirety of your unique asset lifecycle, from start to finish.
---
MIXED REALITY / WEARABLE TECH
Using the Microsoft HoloLens, our augmented reality remote assist offering allows our network of over 2000 skilled Wajax technicians and engineers to provide expert support anywhere, anytime.
This hands-free wearable experience allows for collaboration in a variety of environments, from factory floors to offsite hazardous environments. Tackle repairs, maintenance, troubleshooting, safety inspection, quality assurance and more.
Request a demo
---
OFFLINE MONITORING
Save time, effort and increase efficiency for the entire lifecycle of your equipment with offline monitoring.
From predictive mechanical maintenance programs that detect deterioration before equipment failure, to vibration analysis, our resources collect data and build robot analytics – both online or offline.
Using advanced video technology, our motion amplification service detects subtle motion in your equipment that left alone could result in serious defects. Our specially trained experts interpret the results and provide a recommendation before catastrophic damage.
OFFLINE MONITORING CAPABILITIES ALSO INCLUDE:
Predictive Mechanical Maintenance
Vibration Analysis Program
Motion Amplification
Precision Alignment and Dynamic
Balancing
Bump Test
ODS & Modal Analysis
Boroscopic Inspections
Infrared Thermography
Torsional Analysis
Predictive Electrical Maintenance & Inspections
ElectroMechanical Inspections
Commissioning and StartUp
---
Improved operations, enhanced
performance, empowered teams,
powered by Wajax TechIQ.